Sylvie Burnet Merlin Founder of saburnet-collection.com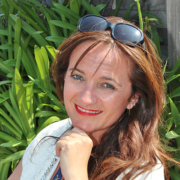 With more than 15 years of experience in PR and Communication, Sylvie Burnet Merlin is an international Press Relation Agent and founder of saburnet-collection.com. She has a new consulting service helping companies and brands increase their visibility in the media both in France and abroad.
-What have been the major milestones in your journey?

After earning a degree in International Business Studies as well as a European Certificate in Business English, I started working in Paris across various sectors including decor, sports marketing, public relations and international trade. These different experiences allowed me to meet a lot of different people and at a certain point, I was asked to provide press relations and communication for a luxury hotel group in Megève. Currently based in the French Alps, I am now a freelance international press liaison specialized in hotels and luxury chalets, spas, cosmetic brands, decor, fashion, jewelry and gastronomy.
-What is the greatest memory you have so far from your career?

Professionally, I am very proud to have created 'My Collection' online, after years of work. The objective was to offer another concept of communication and to make it known across the press. It is meant to highlight interesting stories online and on social networks.
-How did you have the idea of creating Saburnet Collection?

The saburnet-collection.com concept was born as a result of my more than 15 year experience in international press relations in Megève, Courchevel, La Clusaz, Chamonix, Geneva, Gstaad, Verbier and Cannes. After all these years, I don't just have a full address book. I have exceptional mentors to whom I dedicate all my know how in media promotion (magazine, web, TV, radio, social networks). With my site saburnet-collection.com, I take it a step further by offering my future customers a family dedicated to class, performance and exceptional results. My website showcases them on the internet in front of a client base who are looking for excellence.
-What are some of your newest ambitions? What services do you offer?

I am launching my consulting services which will give companies the key to increasing their visibility and help them form their PR and Communication teams. I offer different modules across one or two days with the option to work with OPCA, an association which aids in the financial aspect of the business. I also collaborate with the training organization JAM who I have worked with for a number of years. The goal is to offer these companies ways to optimize their image in the French media as well as in other countries. At the same time, I am their representative for image consulting as well as responsible for putting a personalized communication strategy in place.
-What sets you apart from others?

What sets me apart is the amount of experience I have with international press relations for different luxury industries as well as the regular contact I have with journalists and media in France and abroad.
-Do you have other projects for the future?

I hope to develop my consulting sessions to help start-ups develop their business. It means a lot to me to create personalized communication tools and PR as well as to introduce them to 'My Collection' and social network.
-What is your life motto?

My motto is to work in my profession with happiness and to share my know how with passion. That is my personal credo as well as the one of Saburnet Collection!