Shahida Siddique owner of the organic cosmetics brand Altearah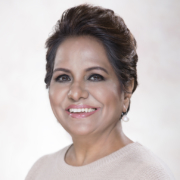 -In which year did you create the Altearah brand?
Altearah was created in the year 2000 by three French people. One was a marketing person, the second a trainer and the third was a colour specialist. Their collaboration lasted only a few years. The company was closed in June 2007. I purchased the brand name Altearah and the assets of this closed company in November 2007 from the French Government and started production of the existing Altearah Perfumes and Body Range in Bellegarde a month later. As the owner of the brand I envisaged and created the Altearah Face range in the year 2017.Interestingly the originators didn't describe the range as I do now. The concept is much more honed and polished and specific for Spa, Institutes and Retail stores.
-How did you come up with the idea of creating this brand?
It was the original concept of the brand Altearah that I was attracted to and fascinated me when I first saw the brand in 2004. Altearah was the first brand to amalgamate different bodies of knowledge aromatherapy, Colour therapy, olfactotherapy, oleotherapy and massage therapy. It was a new, and unknown brand and they were promoting the products only where probably colour was understood. When I saw it I realized the amazing potential in the world of wellness which also at that time was in its nascent phase. It was also the time when my two children were very young and I only wanted to get for them effective, safe and pollution free products. The last ten years both wellness and Altearah have grown a lot – so have my children. People are more conscious of what they are using on their skin and what they are inhaling as perfumes. My idea of the face range was to give options for individuals and professionals who only work on their or their clients faces and needed the same emotional benefits that Altearah provided, but also wanted pollution free, effective and result oriented face products.
What is the concept of Altearah?
Altearah is a professional and retail brand of organic personal care products which creates Emotional wellness within and around us through the power of Aromatherapy coded by colour. The products are delivered to our body through olfactotherapy and massage therapy. Altearah creates positivity, emotional growth and resilience.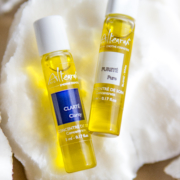 What characterizes the products?
Altearah is an ethical product respecting humans and nature. It is organic using plants and it is certified by Ecocert. Altearah is not tested on animals with ONe Voice Certifications. Altearah is produced in Bellegarde in the Gard district in South of France in its own Laboratory and production facilities located in the heart of an organic farm. Our strength is in the quality of our oils and the efficacy that results in the beautiful synergy of different essential oils. Our strength is also in our step by step offer for professionals, the client focused protocols of care and the quality of the trainings we impart. I am very interested in design thinking in every aspect of life. Altearah embodies contemporary art and design. Our packaging is simple, clear and contemporary. Our laboratory and our offices are ergonomically designed for our team's efficiency and wellness.
-How many products count the range so far?
We have a very large range comprising of 79 products; 14 perfumes, 15 Body Oils, 15 Massage Oils, 14 Concentrates, 5 Scrubs, 7 Bath Salts and 9 Face products. We have these in professional and retail packaging and in gift coffrets.
What is your development strategy and what are the current projects?
We are constantly working on planning for the future. Unfortunately emotional well being is challenged all over the world. Political, economic and demographic stressors are increasing year after year. Therefore the need for emotional wellness products, tools and practices is also increasing. Altearah contributes to wellness by making clients reconnect to their emotions and develop emotional resilience in a social setting and at work. It can also help you relax and sleep well. We want to create all the personal care products that can be used professionally within protocols of care and "at home" care. We are in the process of developing a Face Mask and Scrub and a Body wash which we will launch in 2019. We are entering into new international markets within Europe.