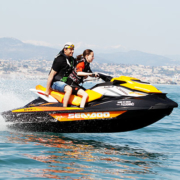 BRP, the Canadian recreational vehicle brand, offers a unique platform for jet-skiing which combines comfort with new sensations! Grégory Derlon, Marketing Manager at Seadoo France, explains the advantages of this product which is shaking up the jet ski market.
What are the advantages of the new Sea-Doo platform?

The goal of the BRP is to offer a machine which provides maximum comfort and stability to be able to take longer trips. The new hull has several advantages; it is more ergonomic with a lower seat that allows you to tackle rough water at high speed or with three passengers. The platform now allows you to attach a suitcase, cooler or gas can to the back. In addition, the chair is disengaged to create user friendliness on the machine when it is stopped. The idea is to create a real "lounge on board" to be able to share new moments on the water.
What about its performance?

These new platforms are lighter, allowing a better power-to-weight ratio. So, by reducing the weight of the machine by 40 kilos, they offer better acceleration. In addition, when designing the platform, BRP paid particular attention to the creation of a new handlebar. It is fully adjustable so it optimizes the driving position for better control.
What differentiates BRP from other recreational vehicles on the market?

Innovation is an integral part of the company's DNA. BRP was the first to invent IBR, an electronic brake system on the water. Other innovations such as D Sibel technology to reduce noise pollution as well as our closed circuit cooling system to prevent salt deposits in the engine have helped to place BRP ahead of its competitors.
Tell us about SPARK TRIXX

Over the years, a race for power and performance has been established among the competition. We have reached a certain level of technology which is reflected in the price of the products. For example, the price of some jet-ski models exceeded 18,000 euros, which was no longer accessible for most customers. We found it wise to continue to offer a small vehicle which is lighter and at a more attractive price point. The SPARK weighs 190 kilos and even if it is less powerful with 90 horse power it is still fast because of its low weight.
What is "Responsible Rider" program?

With the "Responsible Rider" program, we make our customers aware of the need to respect not only the environment and nature, but also people. The watercraft does not necessarily always get good press and I think it's entirely the fault of the users. We try to improve its image by encouraging customers to strictly comply with regulations to limit nuisance associated with their use. The sea is still one of the few playgrounds where we are free. If we want this to continue, we all must be disciplined and responsible!