Christophe Charret, Creator of 'Bus Burger' 'An unusual concept with a friendly team and authentic burgers'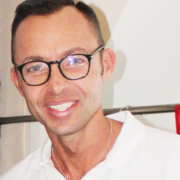 Christophe Charret is a self-taught entrepreneur who has launched numerous companies in various fields. He defines himself as a passionate person following an atypical career path. He is the creator of 'Bus Burger', a renovated bus converted into a restaurant which travels around Paris. Launched in June 2017, the concept has found immediate success…
How was the Bus Burger concept born?

Initially, I was looking for a promotional tool that would be visible by a large number of people. I was partly inspired by the Red Bull promotional cars but I wanted something bigger. My idea was to create a street sign with LED lights to try and achieve an effect like the billboards you see in Times Square or on Broadway. However, it was very expensive and I decided to opt for a bus that would advertise on the outside what was happening on the inside. So that is how the Bus Burger was born.
What happens during a tour with Bus Burger ?

The bus leaves from Place de la Bastille at address, 2 rue Jacquard, in the 11th district of Paris. The typical routes run along the Seine and pass in front of popular Parisian monuments including the Louvre, Notre Dame, the Eiffel Tower, Pont Neuf, Concord, and the Arc de Triomphe. Inside the bus there is an equipped kitchen as well as seating for 30 in the style of a typical American diner. Instead of taking a monotonous tour of Paris, passengers enjoy lunch or dinner, have fun, and sometimes even dance all while seeing the sights of Paris. It is a fun atmosphere for everyone on board. Our customers live our motto: "Bus Burger, more than a city tour, more than a restaurant, it is an experience!"
Tell us about the products served on board…

Firstly, everything is made in France. The burger buns are made by a baker/pastry chef located in Hauts-de-Seine. The burger is made from charolais meat and the vegetables are bought from local regional farmers. We offer a 24 euro menu which includes the city tour so it is an excellent value for money. Our customers were not wrong to vote us as one of the 30 best restaurants for price vs. quality in Paris. As soon as we launched Bus Burger in June 2017, the media was really interested in us and word of mouth has also been a big help.
Is it possible to rent the bus for private events?

Absolutely. We have the most beautiful room in Paris in terms of decor seeing as that we pass by the most beautiful places in the city. We have a lot of requests for privatization from business owners who want to impress their clients. They can host up to 30 people for 1000 euro or less. This allows for a different experience at a great price. And to a certain extent, we can accept requests to personalize the route
Have you thought about franchising the Bus Burger concept?

Yes, different franchises are planned to launch soon in Bordeaux, Lille, Marseille, Lyon, as well as in Brussels. At the same time, I also receive requests to transform buses and get them ready for new utilizations than what they are initially meant for. Bus Burger has given a lot of people different ideas and they come to me for my know-how. I now focus on creating these different projects. I became the 'bus transformer' which is a new job that I find very exciting!