Luxe Mall opens its doors to luxury brands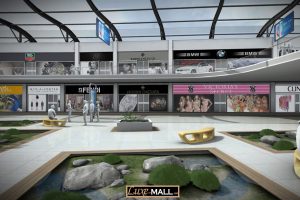 On the e-commerce era, the French start-up e-Koncept has launched the incredible challenge to bring all major luxury brands into a single entity – a 3D virtual mall. By means of intuitive ergonomics, Luxe Mall facilitates access to brands in interest on their own image, while facilitating consumer's purchases.
Since some years now, E-commerce has evolved into an essential concept, from which this ambitious project has taken shape. This collaborative consumption is at its peak with a 60% of Internet users consuming direct sales in 2015. Innovative 3D technology, navigation are, here, taken into another dimension. eKoncept society represents, at this moment, the most realistic and intuitive way to facilitate access to major retailers. We have made possible for the user to consult a catalog containing a panel of upmarket brands through a single website. Ergonomics Site Luxe Mall provides to the user a simple and comfortable navigation. With intuitive direction buttons on either side of the screen, the shopper can move throughout the aisles of the hyperrealist mall.
Central Square, corridors on two floors, aquarium, green areas; everything that would be expected in a real mall is included in Luxe Mall. With a fictional character, the user can move forward, turn, as well as move upwards and downwards. Once arrived at the storefront where you want to access, then a single click is needed to access all brand products.
Luxury Mall has been designed to accommodate 572 stores. Here, the principal goal is to guarantee the user with the same services to those granted in a real mall. The virtual mall will approach luxuries stores, this niche is its guideline. Luxe Mall then acts as a lessor providing different leases based on requests. Indeed, it is possible for the brand to choose different formats such as the number of windows in the store, its place and even its size.
https://www.univers-luxe.com/wp-content/uploads/2015/11/Luxe-Mall-14.jpg
620
930
Florence Bernardin
http://www.univers-luxe.com/wp-content/uploads/2016/11/universluxe-300x64.gif
Florence Bernardin
2015-11-18 22:45:42
2016-11-30 22:48:11
Luxe Mall opens its doors to luxury brands