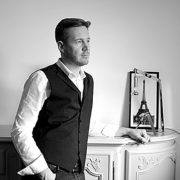 The adventure begins with strong determination to create exceptional pieces. It was with this that the Rêve de Louis, a new luxury brand, was born. Its founder hopes to shine light on French expertise and fine jewelery to those around the world. Today we meet Louis, an inspired yet very discreet designer who believes in destiny.
Louis is an alias. What I can say about myself is that at a young age, I was attracted to the styling and creation of luxury objects. As a child, I could not help but create and draw. I also loved watching my father work. With him, I learned cabinet making and wood carving. This quickly led to learning about interior design. What characterizes me, among others, is my ability to create while dreaming. At night, I work on my pieces. I choose colors and decide where to place gems. These dreams are like work sessions. I visualize each creation perfectly and when I wake up I will draw because the images eventually disappear. This is how Kubya, the most luxurious jeweled lamp in the world, was born,.
What are the characterisitics of Kubya ?

Kubya took almost two years to develop. It is made out of three elements: carbon, gold and diamonds. When it varnishes, the carbon – a material used in high technology- produces magnificent light effects. At 64 centimeters tall, Kubya is composed of 19 diamonds, one of which is at the base and is backlit from the inside when the lamp is turned on. The other 18 diamonds are distributed on either side, positioned on 18-carat gold bars that weigh 380 grams. One of the specifics of Kubya is that you can turn the light off and on without touching it. You only move your hand over the carbon foot.
You were at Place Vendôme. How have you been received by the big jewelry stores ?

I left Brittany to meet with the famous jewelery houses in Place Vendôme to present my concept. Two of them were interested, including Tournaire which is where I chose to exhibit Kubya. I met with members of the family and we connected on a human level. We share the same philosophy of life, built on simplicity and creative passion. They offered me an extraordinary opportunity to exhibit my work at Place Vendôme. The inauguration of Kubya will take place in June at Tournaire in Place Vendôme. After this event, visitors can view the jeweled lamp by appointment. Kubya is a hybrid between art and fine jewelery so people who are attracted to my creation will be lovers of both art and gems.
What are your ambitions for the brand you just created, Rêve de Louis.

The Rêve de Louis brand was born in the wake of Kubya. My ambition is to create a new luxury brand in its own right and to shine light on French know how around the world. Kubya is 100% French and I hope that Rêve de Louis will be one of those French luxury brands that radiate throughout the four corners of the earth. Furthermore, my goal is to every year create a piece made of carbon, gold and diamond like I have done with Kubya ; but nine copies of it. So each Rêve de Louis object will be made only nine times so that it remains a rare object.