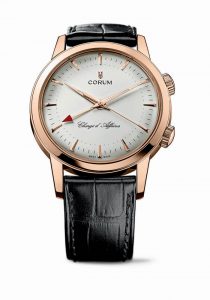 Lancée en 1956, la Chargé d'Affaires revient plus contemporaine que jamais. Cette montre-réveil ravira les passionnés de mécanique comme les amoureux de l'héritage du passé.
Fondée en 1955, la marque Corum est à l'origine de quelques-uns des modèles les plus mythiques de l'histoire horlogère. En 2010 déjà, elle avait redonné vie à deux pièces emblématiques : la Golden Tube et le Chapeau chinois. Aujourd'hui, c'est le modèle Chargé d'Affaires qui fait l'honneur de la collection Vintage. Dotée d'une réserve de marche de 46 heures, cette Chargé d'Affaires est équipée d'un mouvement tout à fait exceptionnel. Il s'agit en effet du même calibre que celui qui faisait battre la Chargé d'Affaires originale de 1956. Ce mouvement historique a été entièrement restauré avec les outils et les techniques de l'époque, mais en répondant à tous les standards de qualité et de finition actuels. Le visage de ce garde-temps, merveilleusement sobre, rend hommage à la perfection esthétique des montres d'autrefois. Le cadran argenté est ponctué d'index des heures en applique; le balisage des minutes, quant à lui, est délicatement décalqué, tout comme l'inscription « Chargé d'Affaires ». La seule infidélité au modèle d'origine est finalement le boitier, légèrement plus grand à 38 mm de diamètre. La Chargé d'Affaires est une édition limitée et numéroté de 200 exemplaires : 150 en or rouge 5N 18 ct montés sur bracelet cuir alligator noir avec boucle ardillon, et 50 en or blanc 18 ct sur un bracelet identique. Cette montre alarme-réveil est étanche à 30 mètres.
First launched in 1956, Chargé d'Affaires returns interpreted in a manner that is more contemporary than ever. This alarm watch will delight devotees of mechanics as well as devotees of the heritage from the past.
Corum does indeed have an extraordinary rich heritage. Since its founding in 1955, the brand has introduced some of the most legendary models in watchmaking history. In 2010, it already gave two emblematic creations a new lease on life: the Golden Tube and the Chinese Hat. Now comes the turn of the Chargé d'Affaires model that is the pride of the Vintage collection. Endowed with a 46-hour power reserve, this Chargé d'Affaires watch is equipped with an entirely exceptional movement: the very same caliber that once beat at the heart of the original model in 1956. This historical movement has been entirely restored using vintage tools and techniques, while meeting current standards of quality and finishing. This mechanical gem is visible through the case-back and reveals the sound bridge engraved with the inscription "1956 – Chargé d'Affaires – 2012". The elegantly understated face of this timepiece pays tribute to the aesthetic perfection of historical watches. The only slight change from the original model lies in the slightly larger 38 mm-diameter case. The Chargé d'Affaires is issued in a 200-piece limited and numbered edition: 150 in 5N 18K gold fitted with a black alligator leather strap with pin buckle; and 50 in 18K white gold with an identical strap. This alarm watch is water-resistant to 30 meters.
https://www.univers-luxe.com/wp-content/uploads/2013/02/visuel-1.jpg
1001
700
Florence Bernardin
http://www.univers-luxe.com/wp-content/uploads/2016/11/universluxe-300x64.gif
Florence Bernardin
2013-02-12 14:18:33
2017-01-11 13:55:07
Chargé d'Affaires, pour réveiller le temps passé