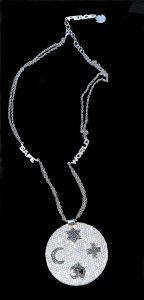 Créé par Fadia Otté, une française d'origine libanaise, Safe World Peace associe trois symboles forts, la croix chrétienne, l'étoile de David et le croissant de l'Islam, pour transmettre un message d'amour, de tolérance et de respect. Née à Beyrouth, Fadia Otté n'a que 8 ans lorsque la guerre éclate, mais c'est le 6 juillet 2005, alors qu'elle échappe de justesse à un attentat, qu'elle décide de créer un bijou en forme de prière, porteur d'un espoir de paix pour le futur. A chaque collier vendu, 10% des sommes sont reversés à l'association  Safe World Peace afin de venir en aide aux enfants déshérités, qu'ils soient chrétiens, juifs ou musulmans. Très impliquée dans diverses associations,  Fadia Otté est par ailleurs Présidente de « la Chaîne des Amis » qui construit une école laïque au Liban, et donne des conférences à travers le monde pour promouvoir un rapprochement entre toutes les religions.
Epuré et intemporel, le collier Safe World Peace, d'une grande finesse, se conjugue en or jaune, en or blanc, en argent ou en diamants et peut être porté aussi bien par les hommes que par les femmes !
Created by Fadia Otté, a French woman originally from Lebanon, Safe World Peace combines three strong symbols – the Christian cross, the star of David and the Islamic crescent – to spread the message of love, tolerance and respect. Born in Beirut, Fadia is only 8 years old when the war starts, but it is on July 6th, 2005, when she only just avoids an attack, that she decides to create jewellery as prayers, to bring the hope for peace for the future. For each necklace sold, 10% of the price is transferred to the association Safe World Peace in order to help underprivileged children, whether Christian, Jewish or Muslim. Very involved in many associations,  Fadia Otté is also the President of the « Chain of Friends » which builds a public school in Lebanon and organizes conferences around the world to narrow the gap between religions.Elegant and timeless, the necklace Safe World Peace is of great delicacy and can be purchased in yellow gold, white gold, silver or diamonds, for men and women alike!
https://www.univers-luxe.com/wp-content/uploads/2011/06/BIJOUX-FADIA-WEB.jpg
1535
739
Florence Bernardin
http://www.univers-luxe.com/wp-content/uploads/2016/11/universluxe-300x64.gif
Florence Bernardin
2011-06-28 14:41:10
2017-01-20 18:12:58
Safe World Peace, des bijoux qui oeuvrent pour la paix